The hub of the European economic market and a key player in international trade, Belgium is also one of the founding countries of the European Union. As the capital of the European Union, Belgium is home to a number of international institutions including NATO, the European Commission, etc.

Cosmopolitan energy in the heart of a developed country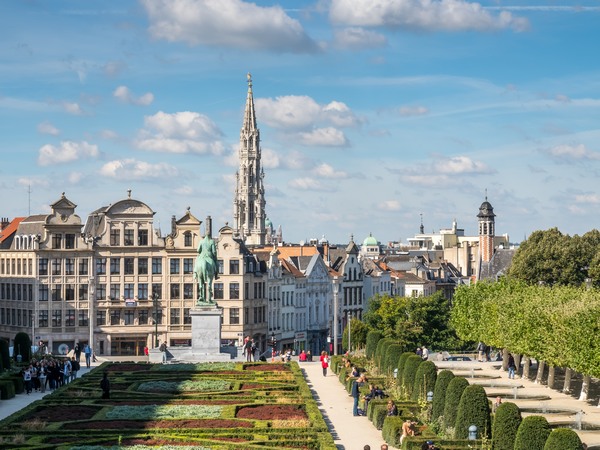 Belgium is at the heart of one of the world's richest and most developed regions. It has an exciting culture and cosmopolitan population. For example, 31% of the Brussels population is of foreign origin.

The Brussels-Capital region benefits from a strategic situation in Europe and enjoys excellent infrastructures.
All these factors make Belgium an great place to do business. The Belgian government and the country's three regions (Brussels-Capital, Wallonia and Flanders) have created attractive investment opportunities.
Located at the heart of Europe
Belgium is the ideal entry point to access a consumer market of 500 million Europeans. Moreover, 75% of European purchasing power is within a radius of 500 kilometres.
The Belgian government has introduced a range of measures and tax incentives to make Belgium more attractive to international investors. Moreover, the Brussels-Capital region encourages innovation, research and development.
It benefits boasts a wide range of facilities in terms of infrastructures and links. It has a range of transport options (maritime and river ports, airports, railway stations, a vast road and motorway network, etc.). Its telecommunications network is top class and inter-modal transport opportunities are on the increase.
Belgium – an open community
Owing to its structure and history, Belgium is naturally a cosmopolitan country. It is made up of three regions: Wallonia, Brussels-Capital and Flanders. It has three official languages: French, Dutch and German. Officially, the Brussels-Capital region is bilingual (French/English) but in the world of business and major companies, English is widely used.
Belgium, a host of advantages
An open economy
One of the leading exporting countries in the world
No trade restrictions
Quick and easy to create a new company
Positive entrepreneurial climate
Easily accessible from Europe and the rest of the world thanks to:
Excellent infrastructure and great transport links
Increasing inter-modal transport options
Outstanding telecommunications network
An international decision-making centre
Home to countless European and international institutions
Over 2,000 multinationals
Presence of pressure groups/lobbyists, diplomats and media groups
Outstanding workers
High level of productivity
Highly skilled labour
Excellent linguistic skills
Centre of expertise
Renowned universities
High-level research & development centres
Innovation incubator
Advantageous tax regime for businesses
You may also be entitled to a range of deductions and tax breaks:
notional interest deduction: deduction of fictitious interest on venture capital financing providing you with a lower tax base and a lower effective rate
deductions on permanently taxed income
95% dividends-received deduction (DRD)
interest deduction if you take out a loan to acquire an interest in a company
investment deduction for investments in new assets
8 % for SMEs regardless of the type of investment
investments in the energy sector
investments in research & development (R&D)
95% net exemption for innovation revenues e.g. for patents, IT programmes protected by copyright, plant-breeding rights, etc.
tax losses carried forward to subsequent years with no time limit
deferral of VAT on acquired goods: you do not have to pay VAT up front or a guarantee
federal tax exemptions on a range of subsidies granted by the regions
Other advantages:
reduced social security contributions for employers
identical tax calculations for job in a Belgian establishment or Belgian subsidiary
attractive effective tax rate i.e. lower than the nominal rate of 33.99%
Well priced real estate
The price of real estate is lower than that in neighbouring countries
Excellent living conditions
High standard of living
Exceptional education
Quality health care
Cultural crossroads
Are you looking for free support and advice to start a business or invest in Belgium?
Contact the agency in charge of investments in the region you are interested in:
Wallonia
Wallonia export and foreign investment agency
Brussels-Capital
Brussels Invest and Export
Flanders
Flanders Investment and Trade
Are you looking for free support and advice about tax matters?
Simply, contact the Service Public Fédéral Finances (NB: federal public finance department):
SPF Finances
Cellule Fiscalité des Investissements Etrangers
Tel: +32 257 938 66
taxinvest@minfin.fed.be
Do you need advice about economic matters?
Simply, contact the Service Public Fédéral Economie (NB: federal public service economy department):
SPF Economie, PME, Classes moyennes et Energie
Service Investissements étrangers
Tel: +32 2 277 69 13